Life lately has been a little crazy. I have been contemplating this post for a while, wondering what to use to break my blogging silence. Hmm. Well, I'll just start off with the facts. It was my 29th Birthday on April 6th and to celebrate during the day, we (me, Oma, Bailey and Kleiners) took it to the park with In N Out. Here is Klein in the swing. It was his first time to the park, and in the swing!
There is so much going on here. The park in the background, the In N Out, the blanket for our picnic, the bubbles that we brought for Klein that he got from the Easter Bunny.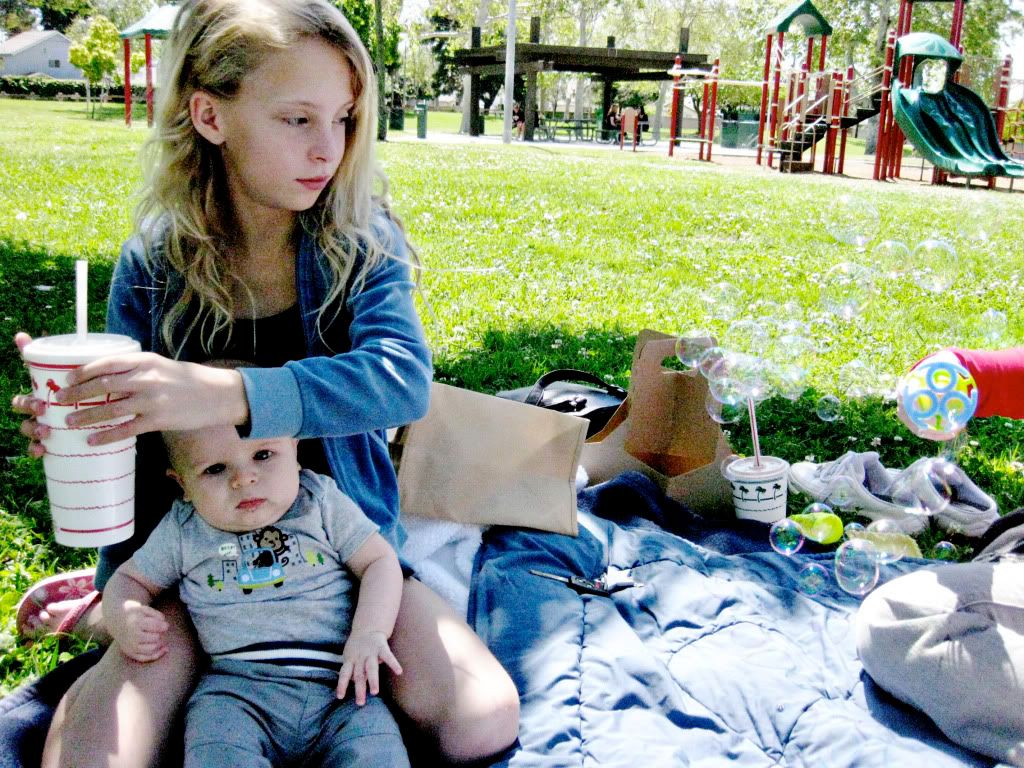 Here shows my success at getting ALL the candles out. They were atop a sugar free cake that my wonderful husband tracked down for me. Whataguy.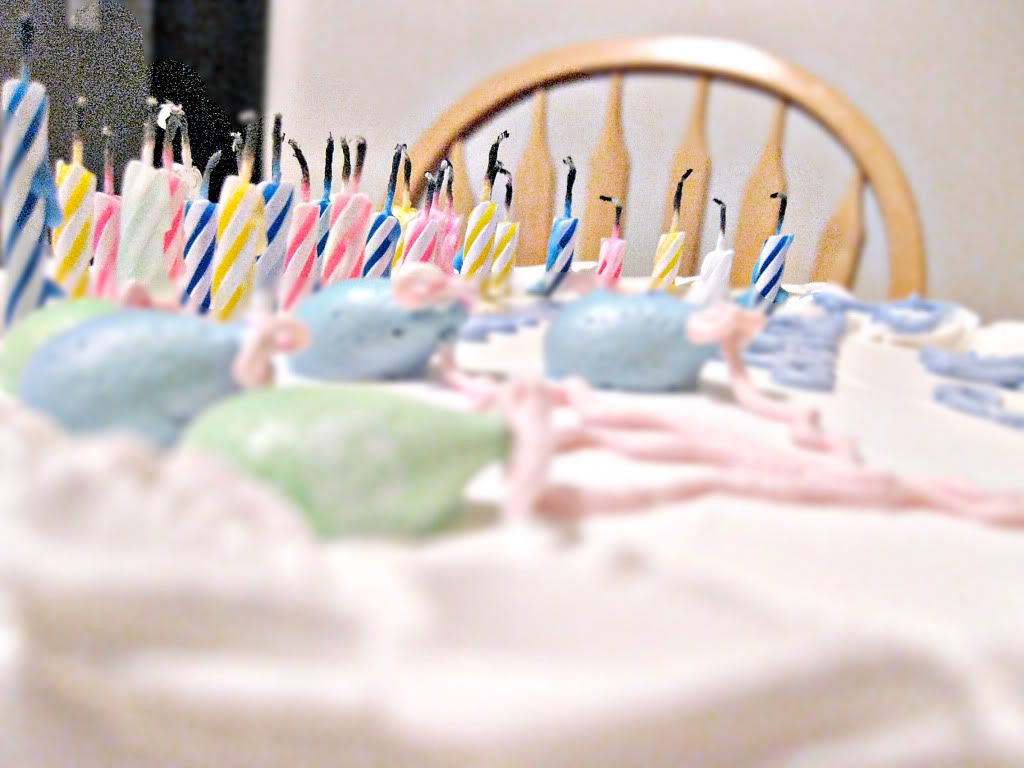 Not a half bad picture of me. Lately, those are really really rare...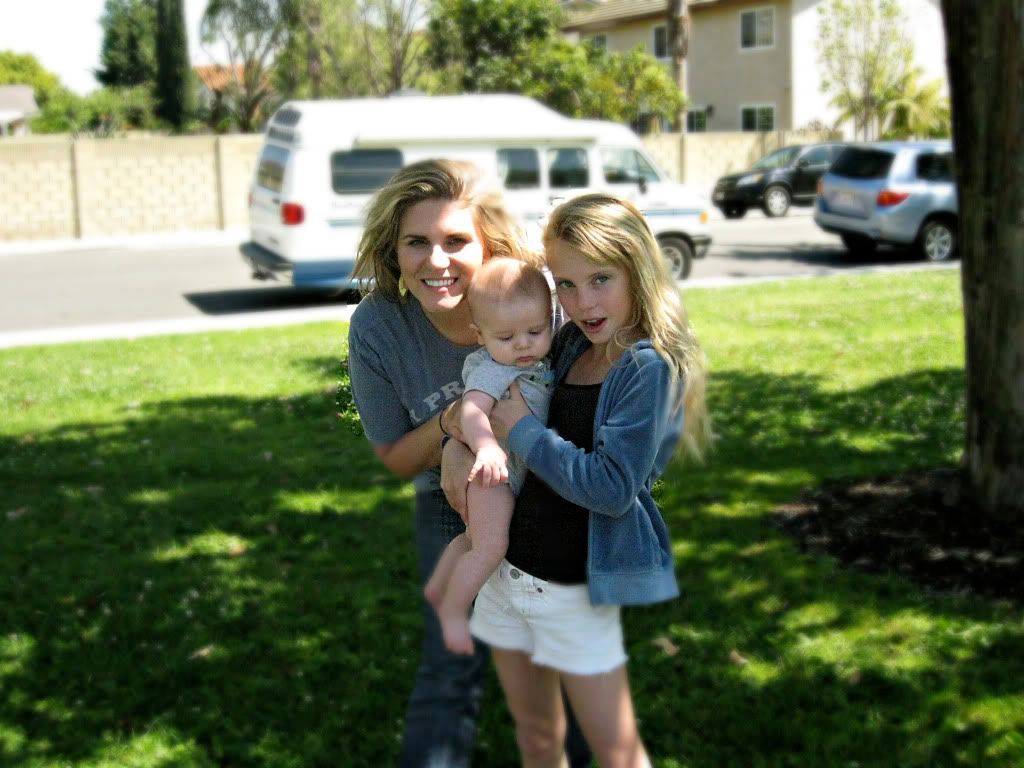 Which brings me to my next topic. Working out. I have had bouts with P90X, pilates, gym cardio machines, walks around the neighborhood/beach. The thing that I have recently taken to is dear Tracy Anderson. Now I know some mock her Method, but I happen to really enjoy it. I am her fan on Facebook and her follower on Twitter (before this kind of behavior might've triggered a fear response in some people, but now it's normal to be a follower of someone, okay?) I was doing her workouts (Mat and Dance Cardio) before I got preggers but then stopped during my pregnancy. Now, I am back at it with her new DVD's (which I happen to really love). We will see how it goes... Here I come "teeny, tiny".

In other news, I introduced Klein to Formula and since I got a plugged milk duct and other things, he has kinda taken to the formula so I am weaning him more or less. I am having a rough time with it. I feel so guilty about it. What do I do? I mean, I nursed him for over 5 months. Isn't that saying something? I know breastmilk is best for him, but he is starting in on solids and rice cereal. I don't know, he just doesn't seem like he's that into it, only nursing for like 5 minutes at a time, and I could really love being able to diet and get in shape without worrying about milk supply, etc. He's so healthy and happy. It's okay, right?!

Klein is sooo much fun these days. I think I love this 4-5 month stage. He is all smiles and loves to play. He is grabbing and reaching and putting everything near his mouth. He knows me and he likes me around. He can also entertain himself for a little while so that is nice for me to get my workouts done. I could just eat him up!

Okay, this post is way too long. I feel like I'm talking to an old friend who I haven't talked to in a while. There is just so much to update!

One more thing, Grant and I celebrated our 3 year anniversary. He got me the cutest leather key chain and wallet (3 year gift is leather). I got him a subscription to the Wall Street Journal, not leather, but we missed the Paper year (the 1st anniversary gift) so I figured it was fine. Grant was also called as our ward's EQP which is great. He's really thrilled about it.

Klein had his first Easter and General Conference and he got through them just fine. He even found 4 eggs. Right now, he is just laying on my bed, staring up at the ceiling. No pacifier, no toy, just laying with his hands above his head, his legs sprawled open. Totally just hanging out. Now, if you'll excuse me, I'm going to go eat him.